Patch 1.0.7 Blog has been released. And I would like to introduce a new Barbarian skill build for you. It is Two-Handed Limitless Wrath of the Berserker Build.

After patch 1.0.4, I have heard a lot of news about Limitless Wrath of the Berserker. Now after a long study, I have come out this build: Barbarian Dual Wield Limitless Wrath of the Berserker Build.
As we all know that Limitless Wrath of the Berserker rely heavily on the Fury. To have access of Fury, you must consume the Fury reasonably because in the furry fury acquired Fury is not able to maintain Wrath of the Berserker. Currently 80% Barbarian player use Dual Wielding weapons. Two-handed is used to level in 0 Paragon Level which is rarely used in high paragon Level.
This is not true. In act, two-handed has its unique advantage. The advantage for two-handed is the control of Fury. As long as we set reasonable adjustments, the disadvantage can be changed and give out the maximum damage while sustain the Berserker Rage.
In high monster power, the health globe of Monster would be greatly increased. A lot of whirlwind & Sprint wrath of the berserker player rely on the whirlwind and to give AOE damage to sustain limitless Wrath rage.
Two-handed skills to sustain Berserker Rage: Weapon Throw + Hammer of the Ancients
Two-Handed Limitless Wrath of the Berserker skill Build: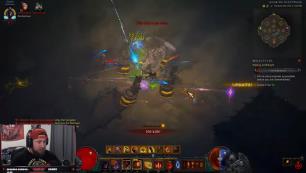 Build Analysis:

1. Sprint – Run Like the Wind: The damage would be considerable for the AOE damage left by the residual whirlwind. Whirlwind damage per second has the same of effect of hit on life.

2. Hammer of the Ancients – Thunderstrike: A lot of players still choose the smash rune to create 406 weapon damage. That rune is really great. But in map loot, I would recommend Thunderstrike to give the stun effect and 10 yard AOE damage. It could save around two to three hammers time for you.

3. Weapon Throw with the passive skill No Escape, it would a perfect combination. Maximize the damage output whole receiving enormous Fury.

If you have the stone of Jordan and Immortal King's Belt, the efficiency would be greater.
In the world of Barbarian, Fury is always the key elements. In the coming PVP, Weapon Throw the long distance skill would be a challenge for the enemy.

Now above is the analysis for the whole two-hand limitless Wrath of the Berserker. For more information, keep tuned.