What is your story about Diablo 3 in 2013? We have held an activity to make a one sentence to show your opinion. Let's see what creative players have written.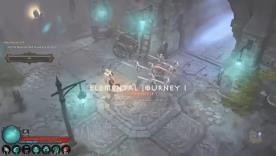 I have farmed hard in 2013 with a disappointed heart, why not even one superb item for me?
Fun reply: May the Legendary Beam surround you.
Why the Barbarian still not Paragon 100?
Fun reply: Barbarian needs more love and time.
Play, AFK, and not able to leave anymore
Fun reply: Absence makes love grow fonder.
Have played for one year, still not beat the Inferno Diablo.
Fun reply: It seems that this game is playable.
Too much sex hurts body, too much Diablo breaks heart.
Too much agony, too little harvest.
Lose too much for hoarding Crafting Material.
Blizzard has broken my heart for thousands times, but I still treat Blizz as my first love.
Fun reply: You are not alone.
I can't take anymore, I can't play any more, but go to play everyday.
I hope I can get Paragon point 1000 before Patch 2.0 comes, trying the ninth plvl 100.
ROS please give me another way to play after one year of WW Rend.
What would the world be without Auction House?
For the past year, Agony comes along with joy!
See you in March, 2014.
AFK, back online, AFK, back online, AFK, back online.
Damn it, Reaper of Souls Charge again?
We are not playing the game, but the memory.
Fun Reply: We are growing older.
It is not easy to say love you Diablo 3 while it is not easy to leave as well.
Waiting for the Expansion Reaper of Souls.

Written by
Phebe sal
Game Reviewer